City Council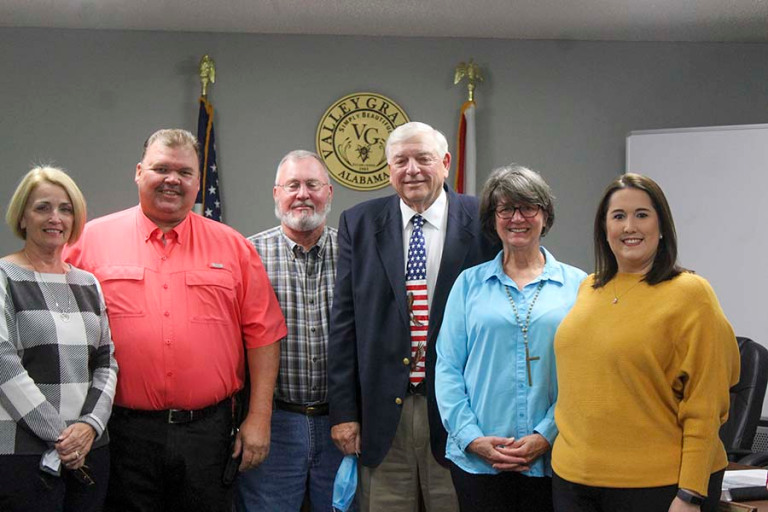 The members of the Valley Grande City Council are:
Place 1: Kay Davidson
Place 2: Sara Day
Place 3: Jane Harris
Place 4: Bruce Hughes
Place 5: Robbie Rose
Valley Grande was incorporated as a municipality in Alabama in 2003. The municipal government has operated under the Mayor-Council form of government since incorporation. Council members are elected every four years and must reside in the city of Valley Grande.
The City of Valley Grande Council meetings are held on the 1st and 3rd Monday of each month at 5:00 pm at City Hall.
The Council elects a Mayor Pro Tempore who presides at meetings, or in other capacities, in the absence of the mayor. Current Mayor Pro Tempore is Place 1 Council Member Kay Davidson.
The City Council is the legislative branch of city governments and is responsible for, among other things, considering local resolutions and
ordinances
, adopting an annual budget, determining policies for the City, and appointing members to local boards and committees.
City Clerk/Treasurer
The City Clerk's Office is administered by Kim Harris, City Clerk/Treasurer.
The City Clerk/Treasurer is appointed by the Mayor and Council every 4 years and serves as an administrative officer of the city.
The mission of the Office of City Clerk of the City of Valley Grande is to assist and support the office of the Mayor and the City Council in the governance of the city. The City Clerk's office handles business licenses, building permits, floodplain administration, sales tax records, city elections, official record keeping functions related to city council meetings, city finance, website administration and maintenance of municipal resolutions and ordinances passed by the Valley Grande City Council, as well as other general administrative operations of the city.
Building Inspector
Sam Smitherman serves as Building Inspector for the City of Valley Grande. He may be reached through the Public Safety Department by calling 872-0104.
The Building Inspector is responsible for reviewing construction plans and performing inspections for all residential and commercial construction, from new construction to remodeling, to ensure compliance with the International Building Code and National Electric Code regulations.